Popular science recently put all of their published magazines on the Internet. As soon as I heard, I couldn't wait to search for any "kart" related articles. I remember seeing old magazines amongst my fathers collection and was amazed at the details and information which was available for making all sorts of projects going back even to the start of the 19th century. A quick search here led me to some of the articles shown in the image below.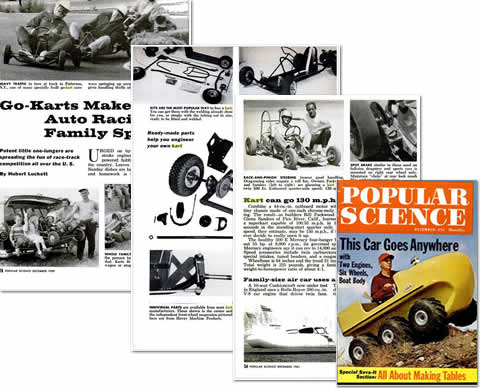 Direct links to two of the articles are:
http://www.popsci.com/archive-viewer?id=wyoDAAAAMBAJ&pg=78&query=kart
http://www.popsci.com/archive-viewer?id=TiEDAAAAMBAJ
I came across lots of advertisements and classifieds for go-kart kits but a lot of these were pretty old. Other search keywords which returned lots of results were "buggy" and "engine" and "motorcycle". Have fun searching through. If anyone comes across any more good articles, feel free to email them on or add a comment. In case anyone was wondering it is an old "Modern Mechanix" magazine article showing kart plans from 1962 on the main kartbuilding.net website.