The CIA (Commission Internationale de Karting) is the specialised Karting commission of the FIA, the governing body of world Motor Sport. The CIA oversees Karting safety in conjunction with the FIA and with a Research Group exclusively dedicated to Karting.
The CIA publish Technical Regulations for Karting, which includes detailed Drawings and specifications. In their most recent publication (2007), detailed drawings showing measurements and designs for Kart chassis are included.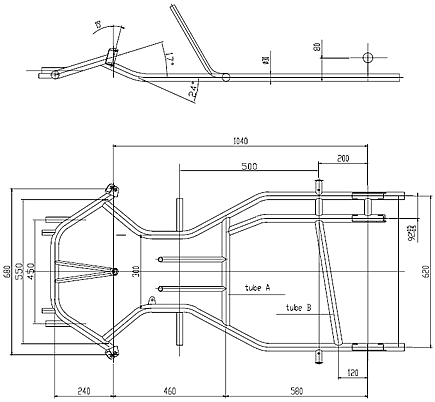 The drawing above shows actual sizes (metric also!!) of Karts and provide an excellent guide to building a Kart complete to regulation!! Many people, including myself develop free kart plans, and overlook the wealth of information and diagrams offered by Karting Authorities such as the CIA.
Original Reference Hyperlink to CIA's 2007 Technical Regulations
Saved local copy of the CIA_2007_Technical_Kart_Regulations
Some more Drawings from the above Technical Regulations can be seen below: