Archive for the 'Chassis Design' Category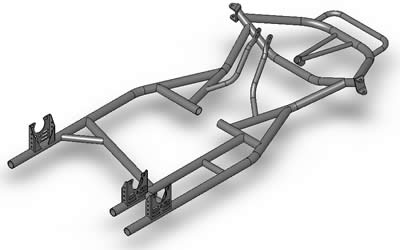 ABout Tony Kart
Tony Kart produces high quality racing kart chassis. A catalogue of their kart chassis can be found on their website. A particular chassis model, a Tony Kart Extreme '97, was modelled using SolidWorks, and is available for download. Below is an overview of the chassis, in isometric and in a plan view.
Overview of Chassis in SolidWorks
This chassis is modelled perfectly in SolidWorks, with each member as an individual part and fully in-context. With the complete assembly and part files, it would be very easy to create 2d drawings of the chassis. The chassis is full size, so no scaling would have to be carried out.
Perhaps in the future the author will complete a fully dimensioned chassis using SolidWorks. Please contact the author if you have any queries etc. regarding this.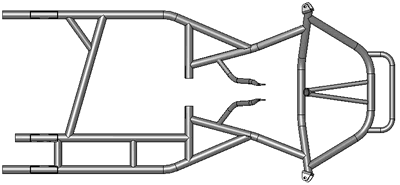 Download SolidWorks Files
The SolidWorks assembly file can be downloaded from its original location here, along with some other CAD drawings also. A backup local copy of the SolidWorks chassis is also available.
eDrawings Download of the Chassis
In case you don't have a copy of SolidWorks to open and measure the components, the eDrawings viewer can be used to open the chassis, measure each component, and create a section view through the chassis. The chassis opened in eDrawings can be seen below: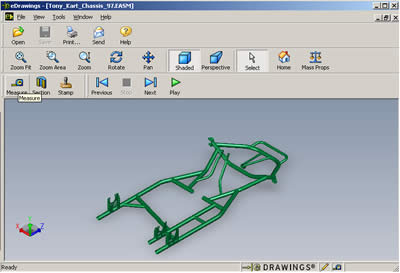 Download the Tony Kart Chassis '97 eDrawing
Note: the eDrawings download of the chassis contains a self executable viewer application.
Conclusion
Hopefully the detailed professional chassis design will give you ideas on how to design and create your own chassis. An idea of the size of the chassis design can also be obtained using the eDrawing. Best of Luck!
If you have any queries or comments, please email them to the author at:

Edit: A few people emailed me asking for the above Tony Kart in AutoCAD DWG Forma: PDF Format of Tony Kart | DWG Format of Tony Kart (in a Zip File) | STEP Format (in a Zip File)
The following website (http://www.vintagekarts.com/karts.htm) has some excellent photos and articles on old vintage go-karts. These karts were made using the basic necessities, and still achieved high speeds with excellent cornering and handling. Several ideas can be taken from these vintage karts where there were "no frills" to building gokarts. Ideas which can be combed from the gallery of photos include:
Twin Engines
Simple friction brakes
Types of Seats
Keeping Chassis Designs Simple
Thumbnail Previews of VintageKarts.com's Gallery: 







View more photos here: http://www.vintagekarts.com/gallery.htm
Preview of VintageKarts.com's Articles: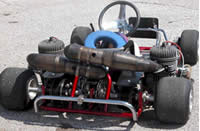 There are also some excellent in-depth articles about the history of karting, right up to the current day! Some of the topics discussed include:
Karting Grand Nationals, from 1960 to 2005
Transportation of GoKarts
Women Gokart Racers
Rocket Powered Karts
McCulloch's Entry into Karting
Hopefully this website will provide further insight and details as to how simple engine powered gokarts were and can be made. If you would like your karting website reviewed and mentioned here, or if you have any comments on this or any other article, please contact the author by email at


The CIA (Commission Internationale de Karting) is the specialised Karting commission of the FIA, the governing body of world Motor Sport. The CIA oversees Karting safety in conjunction with the FIA and with a Research Group exclusively dedicated to Karting.
The CIA publish Technical Regulations for Karting, which includes detailed Drawings and specifications. In their most recent publication (2007), detailed drawings showing measurements and designs for Kart chassis are included.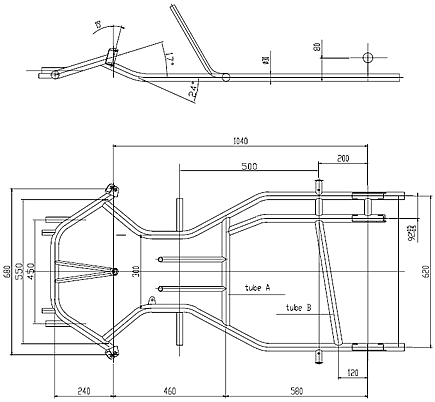 The drawing above shows actual sizes (metric also!!) of Karts and provide an excellent guide to building a Kart complete to regulation!! Many people, including myself develop free kart plans, and overlook the wealth of information and diagrams offered by Karting Authorities such as the CIA.
Original Reference Hyperlink to CIA's 2007 Technical Regulations
Saved local copy of the CIA_2007_Technical_Kart_Regulations
Some more Drawings from the above Technical Regulations can be seen below: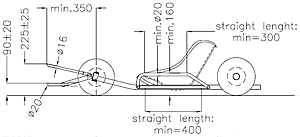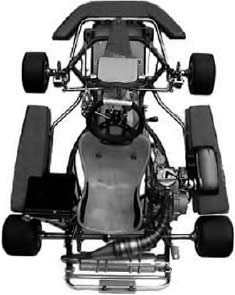 ---
---