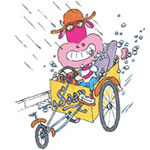 Looks like its too late to enter this years Red Bull Soapbox race in Belfast on May 25th, 2008. What a pity. Still the event itself should be a good laugh with plenty of ideas and soapbox carts/karts to see with 47 teams been given "Soap Box Racing licences". The event seems planned very well, with plenty of information on the RedBull website, including details on brakes and steering!
Attending the race is free to the public, and as the teams are from all over Ireland/N.Ireland it'll be well worth a visit.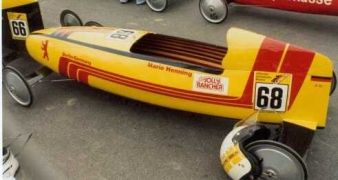 So, what is a Soap Box? They are simple vehicles which reply completely upon gravity. Typically they are raced together as part of a "Soap Box Derby" which is exactly what is happening with the Red Bull Soapbox race.
Keep the ideas and kartbuilding going!
EDIT:
Due to the interest and questions recieved about Red Bull Soapbox racing via email, some vidoes of previous races can be found on youtube. The following are two relevant ones. The first video shows part 1 of the construction of a soapbox racer. The second video shows one of the soapbox carts in action.